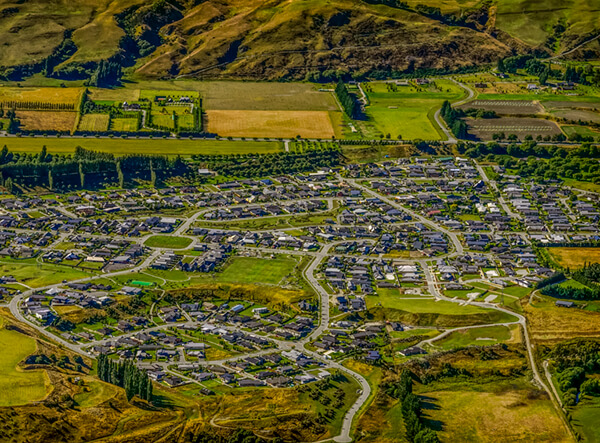 To the Rescue: New Markets Tax Credit Saving Rural Communities
By Georgia Coffman and Cash Gill
In Fall 2017, many were on edge about the possible elimination of the New Markets Tax Credit (NMTC) Program. Low-income and rural communities held their breath as they awaited the verdict of the House Ways and Means Committee in December. And lucky for them, Christmas came early. On December 20, 2017, the NMTC was preserved through 2019. What's more, this past February, the Community Development Financial Institutions (CDFI) Fund awarded 73 Community Development Entities (CDEs) $3.5 billion in NMTC for calendar year 2017. This award will be invaluable to rural communities in particular, as this will significantly boost much-needed economic growth.
Since its creation in 1994, the CDFI Fund has invested in Community Development Financial Institutions, Community Development Entities, and others through numerous programs. The goal of each of these programs is to spark economic growth nationwide as community development lenders, investors and financial service providers light the flame toward success.
One of these continuing successes is the NMTC Program, which was created under the Community Renewal and Tax Relief Act of 2000. This program provides a credit against federal income taxes for investors who make Qualified Equity Investments in CDEs. These entities then use the proceeds to provide loans, investments and/or financial counseling for the acquisition, rehabilitation or construction of real estate and the expansion of operating businesses in low-income and rural communities. The goal is to support growth in these areas that otherwise have difficulty acquiring the necessary investments to succeed.
According to the U.S. Department of Treasury, the CDFI Fund has awarded $54 billion to the NMTC Program, the total of which includes the newly awarded $3.5 billion for 2017. The NMTC Program has generated $8 of private investment for every $1 invested by the federal government since its creation. This program has also awarded $44.4 billion of investments in low-income communities and businesses. In their 2017 report, the New Markets Tax Credit Coalition depicts the success of NMTC investments in the past. From 2003 to 2015, NMTC investments generated more than $156 billion in economic activity and created 1,013,837 jobs in low-income rural and urban communities. With this new February announcement, the list of success stories continues to grow for the NMTC and rural communities, the areas of which especially need this support in order to flourish.
To gain more insight into the positive impact NMTC has had on rural communities, I reached out to Abby Kepple, President of Tax Services of Enterprise Bank & Trust and Executive Director for Enterprise Financial CDE, LLC. Enterprise Financial CDE, LLC, was created in 2008 when its principals noticed the strong need for funding in low-income metropolitan and rural areas. They have received four NMTC awards since then, the largest of which was $65 million in 2016. With each NMTC award, they invest 10-20%, sometimes more, in rural areas. An estimated $65 million was invested in eight non-metropolitan areas as of 2017. These projects included real estate and mixed-use developments, which are vital for these areas.
Enterprise Financial CDE, LLC, has invested significant amounts of their NMTC awards in the past to two rural projects, one in Pittsburg and the other in Atchison, both in Kansas. First, Block22 is a unique learning community in Pittsburg that is centered on students and young businesses, and their entrepreneurial success. It encourages professional ventures particularly for students of Pittsburg State University located nearby. According to Kepple, Block22 has been largely successful in creating numerous opportunities for these students, young businesses and the community as a whole. Since Block22's initial construction, more developments are being seen downtown, made possible in part due to NMTC.
Also inspiring is the revitalization of Atchison YMCA located in Atchison, Kansas. According to Kepple, before the renovations, the YMCA building had not been updated since it's completion over 100 years ago. The building did not even have central air until its rehabilitation! For over two years, the community raised funds through pledged donations, but did not have enough. As their much-needed fairy godmother, Enterprise Financial CDE, LLC, provided the necessary funds through NMTC awards to complete the YMCA's anticipated revitalizations. Construction came to an end last December, and the center is now open to serve more than 6,000 children, families and individuals.
With its expanded space, renovated swimming pool, new gym and wellness center and more, Atchison YMCA "represents the sole source of community development and family recreation. It is also a cornerstone in helping improve residents' health and wellness," according to the YMCA. Obesity is common in this area, as it is in many rural communities, and this YMCA offers a promising place for residents to begin remedying this issue. This would not have been possible without the help of the NMTC award provided by Enterprise Financial CDE, LLC.
Revitalization through NMTC can be challenging in rural communities in particular, though, because the majority of projects are the first to do so through the program. There is a lack of interest to be the first to invest in projects in most rural towns, but "NMTC paves the way to attract more private instruments to steer away from reliance on public municipalities," Kepple says. This in turn, increases local revenue to support its community in the long haul. While overcoming these obstacles can be difficult, there are extreme rewards that result once they've done so. What Kepple believes to be the best part of these NMTC successes is watching the communities grow by working together—observing "what an area was and seeing what it can be."
Providing health and wellness centers are especially important in rural areas. Also important are healthcare services, critical access hospitals (CAHs) in particular. According to the American Hospital Association, CAHs represent more than two-thirds of all rural community hospitals. Chris Vukas, Director of Economic Development at Sunflower Development Group, provides insight on this matter. A recent project he and his company have been involved in was the expansion of the Rooks County Health Center in Plainville, Kansas. The $9.5 million project began in 2014 and completed Phase 1 of 2 early 2017. Phase 1 opened a new MRI/Nuclear Medicine addition, and Phase 2 will provide a new Rehabilitation Center where the community can receive state-of-the-art care.
Vukas says, "The hospital was able to raise over $1.5 million from individuals and foundations like the Dane G. Hansen Foundation, but limited availability of grant funds and large donor bases in rural areas required alternative fundraising strategies." This is where NMTC played a life-changing role for the people of Plainville. The rest of the total was fulfilled through NMTC awards, USDA loans and federal grants. NMTC in this case, as in many, was critical in closing the financing gap. Because of this, the town was able to proceed with their improvements to their local CAH. This is especially motivating as more jobs are created, but the people now also have access to the care they need. Access to sound healthcare and to CAHs are again crucial to the success of rural towns as this provides relief and peace of mind for their residents and their well-being.
An issue rural communities often face, however, is that they don't always have the necessary resources and funding to sustain these CAHs. According to Vukas, funding for CAHs is uniquely difficult to secure because their models require 100% reimbursements. This often discourages investments in such projects. Thus, receiving assistance through the NTMC has been extremely advantageous in the past.
Another major concern for these communities is the lack of education, according to Vukas. Many rural areas do not have the proper knowledge of the different types of government funding available, let alone how to tackle the obstacle of applying for them. Although traveling to these areas can be laborious, companies like Sunflower Development Group have made training and educating people of rural towns a priority. Companies like this are vital in helping rural communities become more familiar with these types of resources in order to complete current pending projects, but also future ones.
These are only a handful of examples that illustrate the importance of NMTC, especially for rural communities. Now that the CDFI Fund has awarded another $3.5 billion to low-income and rural communities, we can expect to see even more positive results. According to the CDFI Fund, 70% of NMTC investment proceeds will likely be used for operating businesses in low-income communities, whereas the other 30% will likely be used for real estate projects in these areas. More specifically, approximately $680.5 million will be used to finance and support projects in rural areas. This will be extremely advantageous to the people of these communities and our nation's overall well-being. The economic growth this will promote can initiate a chain reaction that will likely benefit even more areas, not just rural. And who doesn't want a slice of that lucrative pie?
Another $3.5 billion will be awarded for the calendar year 2018. How and where these funds will be allocated remains to be seen. The CDFI Fund recently opened the NMTC allocation round for the 2018 calendar year on May 9, 2018. The deadline to submit an application is June 28, 2018, and the allocation awards will be announced in winter of 2019. Low-income and rural communities must once again hold their breath, but this time, they can rest easily knowing that the results will continue to be promising.